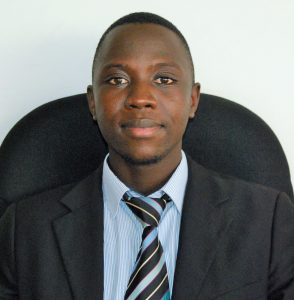 Tel: +256 701 431 971 / +256 784 123 107
Phillip holds a degree in a Bachelor's of Science in Human Nutrition Bsc.HMN (Mak) He has had internship placements in Namungalwe Health Centre III, Iganga District and Arua Regional Referral Hospital ;Nutrition Unit Arua district. He has received certification from the University of Southampton in caring for infants and children with Acute Malnutrition with credible experience in problem analysis and solving respectively. He is currently pursuing a Master's degree in Public Health.
He served as Project coordinator for the Saint Augustine Community Sickle Cell Awareness Program Makerere University (2015 – 2016) and as Music Director for Saint Augustine Choir (Makerere University) 2015 – 2017.
Philip has worked at Food and Nutrition Solutions (FONUS) under the Uganda Multi- sectoral Nutrition and Food Security Project (UMSNP) Nebbi district, West Nile doing data enumeration March – August 2017.
He is currently working under Vintage Options as a Product Quality Controller where he supervises the overall production chain of Hibiscus Sabdariffa Hs fruit juice locally credited as "Kerekede", a natural healthy beverage extracted from Hs Calyces and that of a lotion and beauty soap "TIWE" made largely from locally grown shea butter. He also oversees the Quality control and Hazard Analysis Critical Control Points of the juice production at the production House.